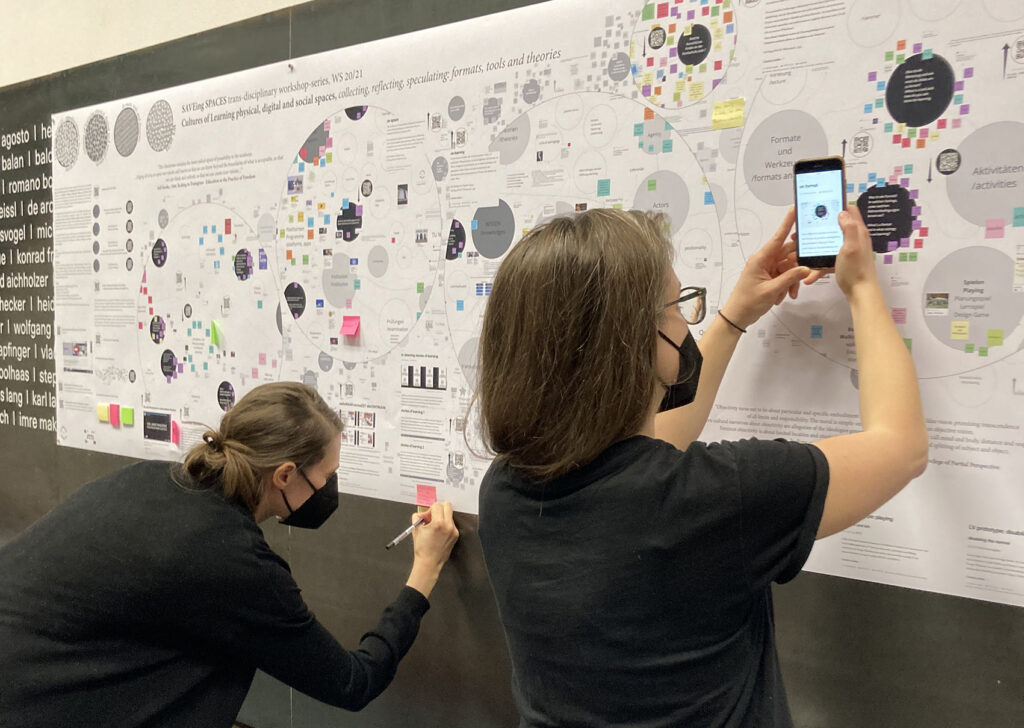 Wir präsentierten das Projekt SAVEing SPACES im Rahmen der zweiten Claiming*Spaces Konferenz im Architekturzentrum Wien.
Die Verknüpfung der physischen, digitalen und sozialen Dimension durch Projekt-Poster, Projekt-Blog und Projekt-Whiteboard. Teilnehmer:innen und Besucher:innen konnten unser gesammeltes, reflektiertes und spekuliertes Wissen über Kulturen des trans-disziplinären Lernens als verkörperte Erfahrung durch die interaktive, hybride Wand erkunden, analoge und digitale Kommentare hinterlassen oder ihre eigene "Lernveranstaltung" für die nicht-normale Universität vorschlagen.
We presented the project SAVEing SPACES within the second Claiming*Spaces Conference at the Architecture Center Vienna.
Inter-linking the physical, digital and social dimension through Projekt-Poster, Project-Blog and Project-Whiteboard. Participants and visitors could explore our collected, reflected and speculated knowledges on cultures of trans-disciplinary learning as an embodied experience through the interactive hybrid wall, leave analog and digital comments or propose their own "Lernveranstaltung" for the not-normal university.